2019
2019 Ninth Annual LCA "Chargers Relays"
Track and Field Meet
April 13th
Location:
Willard High School
515 East Jackson Street
Willard, MO 65781
Information:
Team Registration required. (When filling out the event name on the registration please put down Chargers Relays 2019)
Team registration-Due by April 1st
Pre-liminary entries due by April 7th
Final entries must be in by April 10th
Fees may be paid the day of the meet
Cost Structure:
Elementary 10 U- $5 per individual; maximum of $25 per gender ($50 max. for boys and girls
Elementary 12U -$5 per individual; maximum of $25 per gender ($50 max. for boys and girls)
Junior High-$7 per individual; maximum of $40 per gender ($80 max. for boys and girls)
High School-$7 per individual; maximum of $40 per gender ($80 max. for boys and girls)
Eligibility: As of September 1, 2018
Checks made out to: Lamar Sports Network LLC
Mail to:
Lamar Sports Network LLC
1108 SW 18th St.
Blue Springs, MO 64015
Missouri State Homeschool Track and Field Invitational
April 27th
Location:
El Dorado Springs R2 Schools
901 S Grand
El Dorado Springs, MO 64744
Information:
Team and Athlete Registration required. (When filling out the event name on the registration please put down Missouri State Track and Field 2019)
Team registration-Due by April 7th
Athlete registration-Due by  April 14th
Pre-liminary entries due by April 19th
Final entries must be in by April 24th
Cost: $75 per team per division per gender
Individual Entry Fee is $20.00
High School: 15U-18U
Junior High: 13U-14U
12U: 11U-12U
Elementary 10U and below
(Note: Elementary is $10.00 per kid, Max $50 per team per gender)
Checks made out to: Lamar Sports Network LLC
Mail to:
Lamar Sports Network LLC
1108 SW 18th St.
Blue Springs, MO 64015
Meet Schedule changes:
We will be running the Missourt State meet this year accordingly.
It is being changed to help with the flow of athletes and events.  The big changes:
1. 12U and Elementary will start running events at 10:30 am
2. Field events HS and 14U/JH are interspersed
3.  HS and 14U/JH running events will start around 2:00pm(we will run ahead of time, if we complete the 12U and Elem)
4.  12U and Elem field events are interspersed.
Please note the following:
2. You Must have the right age of your athlete.  There will be no shift of wrong age groups on the 27th.  As always you can run an athlete up a division if you wish, but you have to tell me.
3. YOUR fees will be based on what I send back to you on Thursday, not who shows up on Saturday, (sorry by that time we have done all the prelim work for all entered athletes).
4.  You must get each of your athletes registered on the Lamarsportsnetwork.com website
5.  YOUR T-SHIRT ORDER HAS TO BE IN April 20th by 10 pm
Your entries should be on a spread sheet and look something like this or relay this information
First Name
Last Name
Gender
Age Group- HS, or 14U/JH, 12U, Elementary
Events-limit to 4 events.
Awards
Awards: Medals to top three in each event and ribbons to 4th-6th places
Awards: For Elementary, ribbons to top 6 places
Awards: Trophies to top two places in each division exceop 12U and Elementary
**National Homeschool Invitational Track and Field Championships
May 8th-9th
Wednesday and Thursday
Location:
Southwest Baptist University
1660 South Pike Ave.
Bolivar, MO 65613
Information:
Team and Athlete Registration required. (When filling out the event name on the registration please put down National Track and Field 2019)
Team registration-Due by April 15th
Athlete registration-Due by May 1st
Cost:
Cost: $15 per runner or $75 per team per division per gender
Extra event: Pentathlon $15 and Triathlon $10 per athlete
Checks made out to: Lamar Sports Network LLC
Mail to:
Lamar Sports Network LLC
1108 SW 18th St.
Blue Springs, MO 64015
Rules:
Entries are due May 4, 2019. However, you are encouraged to register as soon as possible.
Age determination is as of 09/01/2018.
Athletes may compete up a division. They may also run relays in one division and still compete in other events in their correct division. Athletes may not compete in the same event in two different age categories.
Each athlete is allowed to participate in maximum of 5 events, plus the Pentathlons/Triathlons.
You must register your team and athlete on the Lamarsportsnetwork.com
Individual entry into events will occur on a separate site.
All participants must be homeschooled at least 50% of their classes OR be invited as a school.
The track is an all purpose track. 1/8″ spikes are recommended. 1/4″ spikes are the max allowed.
Scoring/Awards:
Six different meets will be going on at the same time:
8U, 10U, 12U, 14U, 16U, and 18U
We will be awarding medals to the first 3 places for each event. We will also award 1st place for each team in each division.
Scoring will be 10-8-6-5-4-3-2-1 for each event and will double for relays.
Each team will be allowed to score only 4 athletes per event (they may still enter as many as they want).
Only one scoring relay per team per division (B teams can win medals/ribbons)
Golden Foot Award to top point winner in 18-U Boys and Girls
More Information
The meet is being run at Bolivar, MO
Times are a general estimate. Please be patient as we run this event. This meet is run by volunteers. Any expertise that you want to share and/or help with, please check with lead officials on the track.
All athletes not competing and parents not helping are asked to stay on the outside of the fences or in the stands.
This is an invitational meet. It is open to homeschoolers, co-op, and small Christian schools.
Registration must be made at the Lamarsportsnetwork.com
All information about the meet with be posted on the Lamarsportsnetwork.com
Bathrooms are on the site of the track. Otherwise, there are no dressing facilities.
Concession stand will be on site with hot dogs, hamburgers, chips, fresh fruit, candy, and drinks.
Schedule
Wednesday Schedule
Thursday Schedule
Event Breakdown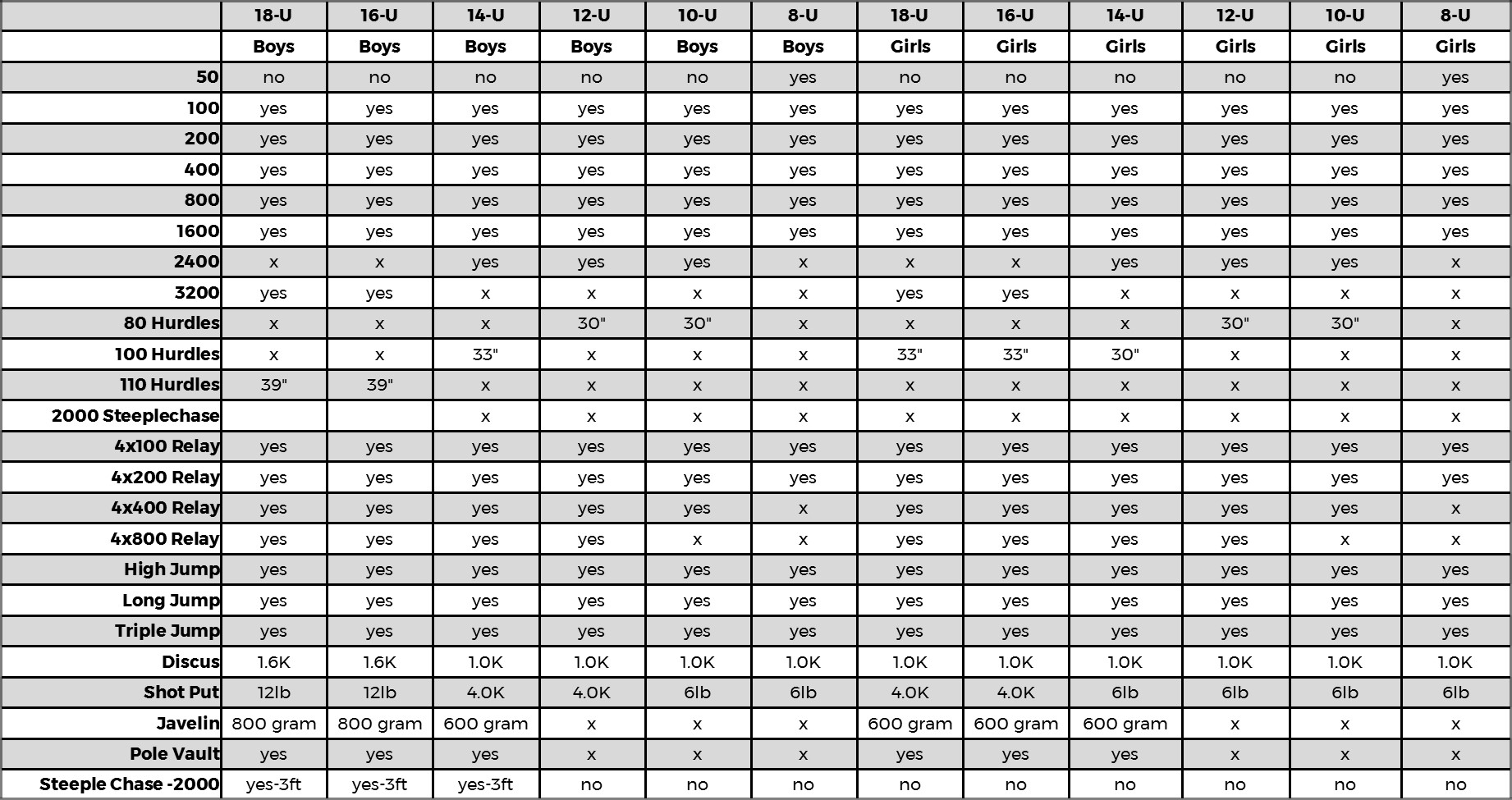 PLEASE NOTE:
Correction-Girls 18U, 16U, 14U will be running the 1500 Steeple Chase at 2′ 6″ height.
Also the 300 Hurdles event is missing on the above list, but will be ran.
300 Inter. Hurdles (30″)  Girls 18U, 16U, 14U
300 Inter. Hurdles (33″) Boys 14U
300 Inter. Hurdles (36″) Boys 18U, 16U
**Event is a Non-Sanction NCHC event allowing Co-ops and Christian Schools