NCHGC 2019 Events
10th Annual National HomeSchool Golf Championships May 7th-9th 2019
2019 will be the 10th year for the NCHGC. Over the past 9 years we have had participants from Alabama, Arkansas, California, Georgia, Florida, Illinois, Indiana,  Kansas, Kentucky, Michigan, Missouri, North Carolina, Ohio, Oklahoma, Pennsylvania, South Carolina, Tennessee, Texas, Washington and Wisconsin. Our goal for the 10th year is to have 100 participants in the 6 age divisions. See below for more details about the 2019 Championship along with past years results and some of our past participants.
Location:
Rivercut Golf Course
2850 W Farm Rd 190
Springfield, MO 65810
Division Details:
18u Boys and Girls
14u Boys and Girls
12U Boys and Girls
(age as of September 1st 2018)
HOTEL OPTIONS – http://nchclive.com/lodging/
Tentative Schedule and Payment Information:
May 7th 2019
Practice Round  – You will need to call and get a tee time 417-891-1645
5:00pm Coaches Meeting and Players Check In
5:30pm – Putting, Chipping and Long Drive Contests
May 8th 2019
Play Begins 8:00am Shotgun Start
May 9th
Play Begins 8:00am Shotgun Start
Awards Ceremony at conclusion of play
Cost – $100 (green fees on May 8th/9th, range balls and meal each day) Payment due by April 28, 2019
Checks made out to: Lamar Sports Network LLC
Mail to:
Lamar Sports Network LLC
1108 SW 18th St.
Blue Springs, MO 64015
If you know a player not listed please email lamarsportsnetwork@gmail.com with the players Name, Year Graduated and College attended.
Results for National Christian Homeschool Golf Championships
Click here for 2019 Results
Click here for 2018 Results
Click here for 2017 Results
Click here for 2016 Results
Click here for 2015 Results
Click here for 2014 Results
Click here for 2013 Results
Click here for 2012 Results
Click here for 2011 Results
Click here for 2010 Results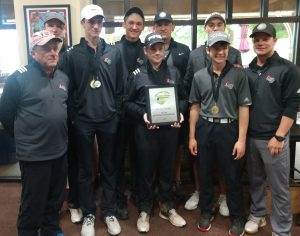 2019 Christ Prep Team National Champions